"You deserve A CLEAR skin & perfect complexion"
IVORY CAPS PILLS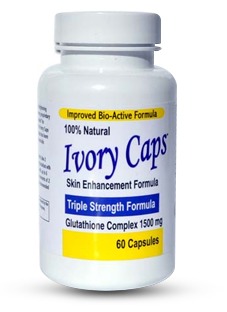 IVORY CAPS PILLS
Ivory Caps (Ivory Caps Pills) is an enhanced nutritional supplement supporting skin whitening utilizing a high potency proprietary "Skin Essentials™" Glutathione Complex for results.
Ivory Caps Benefits May Include:
Preventing the oxidation (darkening) of existing skin melanin
Precipitates the shedding / removal of melanin laden skin cells
Regulation / Reduction of pigment production
About Ivory Caps
In 2004 the makers of Ivory Caps embarked on a business plan to develop the company's most powerful product for supporting skin lightening. Not only was this formula meant to be effective, but also safe for normal use. Though the idea was simple enough, the research and development to create such a product was surprisingly extensive. Every possible factor was considered in creating this revolutionary proprietary formula called "Skin Essentials." What ingredients should be used? How should they be applied? Even minute factors like, what kind of container will keep the ingredients fresh and active.
Upon completion, the product was officially named Ivory Caps® and this new formula incorporated the industry's latest research and most cutting edge technologies. After two years of tests and trials, it was finally available for the public in the fall of 2006. Since then, the R&D Team has been continuously improving the formula and product line with new innovations making Ivory Caps® the most advanced formula on the market today. Every ingredient in The Ivory Caps "Skin Essential Glutathione Complex" has been clinically tested to provide maximum skin enhancement benefit. Glutathione – "Glutathione is the body's master antioxidant and best kept secret to maintaining health." – Theodore Hersh, M.D., Harvard graduate, Professor of Medicine, Emeritus, Emory University. Glutathione is a small molecule made up of three amino acids, which exists in almost every cell of the body.
The presence of Glutathione is required to maintain the normal function of the immune system. Glutathione is involved in detoxification, it binds to toxins, such as heavy metals, solvents, and pesticides, and transforms them into a form that can be excreted in urine or bile. Glutathione is also an important antioxidant. In preliminary research, Glutathione intake has been associated with protection against some forms of cancer, higher Glutathione levels have also been associated with good health in older adults. Glutathione neutralizes the harmful effects of free radicals. Glutathione helps to protect the mitochondria (the cell's energy production unit) and the cell membrane.
Glutathione also helps to protect against DNA damage. Glutathione are necessary for supporting the immune system, glutathione is required for replication of the lymphocyte immune cells. Studies show that Glutathione acts as a Tyrosinase Inhibitor. Tyrosinase is an enzyme that catalyzes the biosynthesis of melanin which is a culprit for skin darkening. Alpha Lipoic Acid – helps break down sugars so that energy can be produced from them through cellular respiration. In addition, recent research has discovered that Alpha Lipoic Acid plays a truly central role in antioxidant defense.
It is an extraordinarily broad spectrum antioxidant able to quench a wide range of free radicals in both aqueous (water) and lipid (fat) domains. Moreover, it has the remarkable ability to recycle several other important antioxidants including vitamins C and E, glutathione and coenzyme Q10, as well as itself! For these reasons, alpha lipoic acid has been called the universal antioxidant. In addition to serving as the hub of the body's antioxidant network, Lipoic Acid is the only antioxidant that can boost the level of intracellular Glutathione. Besides being the body's primary water-soluble antioxidant and a major detoxification agent, glutathione is absolutely essential for the functioning of the immune system. Scientists have known for a decade that maintaining a high cellular level of glutathione is critical for life and crucial for health. In a number of experimental and clinical studies, Lipoic acid has now been shown to be useful in the treatment of such conditions as diabetes, ischemia-reperfusion damage, neurodegeneration, heavy-metal poisoning, radiation damage and HIV infection and may offer significant protection against stroke, heart disease and cataracts (Packer L et al., 1995).
It is likely that much of the beneficial effect of Lipoic Acid may be attributed to its ability to increase levels of Glutathione, chelate metals (such as iron and copper), quench diverse free radicals, and recycle antioxidants. Silymarin – refers to the extract from the seeds of the plant Silybum marianum, also called "milk thistle." It has been used for over 2,000 years. During the Middle Ages the seed of the milk thistle was commonly used to treat liver diseases. The active ingredients of milk thistle are chemicals called flavonoids. The flavonoids in milk thistle are silybin, silydianin, and silychristin.
Together, they are called silymarin. Silymarin protects the liver by acting as an antioxidant and by promoting the growth of new liver cells. Silymarin also helps with the digestion of fats. It appears to help keep harmful substances out of liver cells. Milk thistle can help prevent or reverse liver damage caused by alcohol, recreational drugs, pesticides, some poisons, or hepatitis. Silymarin has been used (especially in Europe) to treat hepatitis, liver damage due to alcoholism, and poisoning by certain types of mushrooms.
Ingredients and Directions
Serving Size: 2 Capsules
Amount per 2 Capsules: % Daily Value*
Proprietary Skin Essentials Blend 1500 mg
Contains: Glutathione, Alpha Lipoic Acid, Milk Thistle, L-Cysteine, Green Tea Extract
Other ingredients:
Hypermellose, Cellulose, Magnesium Stearate
Directions For Use:
As a dietary supplement, take 2 capsules daily, preferably 30 minutes before or after eating, with water or juice.
For enhanced benefit, up to 6 capsules daily may be taken in increments of 2 capsules 3 times daily.
It is not recommended to exceed 6 capsules daily.
Email:
drmelissa@witswomenclinics.co.za
drbismarck@witswomenclinics.co.za
nursekhumalo@witswomenclinics.co.za
IVORY CAPS IN GAUTENG
Ivory Caps Pills in Alberton, Alexandra, Ivory Pills in Aloe Fjord, Arbor. Ivory Pills in Arcon Park, Atteridgeville. Ivory Caps Pills in Balmoral, Bapsfontein.
Ivory Caps Pills in Baragwanath, Baviaandpoor, Bedfordview, Bekkersdal. Ivory Pills in Benoni, Birchleigh North. Ivory Pills in Bloekomspruit, Boksburg. Ivory Pills in Boltonia, Bonaero Park.
Ivory Caps Pills in Brakpan, Brandvlei, Cardoville, Carenvale, Carletonville. Ivory Pills in Casseldale, Castleview, Centurion, Chamdor.
Ivory Caps Pills in Chiawelo, Christoburg, Chrisville, Clayville. Ivory Pills in Cullinan, Danville, Daspoort, Daveyton, De Deur. IvorY Pills in Dersley, Devon.
Ivory Caps Pills in Diepsloot, Doringkloof, Driemandkap, Duduza. Ivory Pills in Dunnottar, East Driefontein, East Geduld.
Ivory Pills in East Village, Edenvale, Eikenhof, Ekandustria. Ivory Pills in Elandsfontein, Eldoraigne, Endicott. Ivory Pills in Ennersdale, Erasmia, Ivory Pills in Evander, Evaton.
Ivory Caps Pills in Florida, Fordsburg. Ivory Pills in Four Ways, Germiston, Glenharvie. Ivory Pills in Grasmere, Halfway House. Ivory Pills in Hammandkraal, Heidelberg.
Ivory Caps Pills in Hekpoort, Hennopsrivier, Hermandtad. Ivory Caps Pills in Honeydew, Hopefield, Ivory Pills in Hyde Park, Irene. Ivory Caps Pills in Jagfontein, Jameson Park, Ivory Pills in Johannesburg.
Ivory Caps Pills in Katlehong, Kempton Park. Ivory Pills in Khutsong, Khyber Rock, Ivory Pills in Kliprivier G, Klipspruit. Ivory Pills in Krugersdorp, Kwa-Thema.
Ivory Caps Pills in Landeria, Laudium, Lawley, Lebohang. Ivory Pills in Lenasia, Libanon. Ivory Pills in Loch Vaal, Lynnwood.
Ivory Caps Pills in Maanhaarrand, Mackmaar. Ivory Pills in Magaliesburg, Mamelodi, Ivory Pills in Maraisburg. Ivory Pills in Marievale, Meyerton, Ivory Caps Pills in Midrand.
Ivory Caps Pills in Modderfontein, Mohlakeng. Ivory Pills in Nigel, Nokaneng. Ivory Pills in Oberholzer, Olifantsfontein. Ivory Caps Pills in Orange Farm, Pretoria.
Ivory Caps Pills in Pretoria North, Pyramid, Randburg, Randfontein. Ivory Caps Pills in Rensburgdorp, Rietfontein G. Ivory Caps Pills in Roodepoort, Sandton.
Ivory Caps Pills in Sebokeng, Sharpville, Sasolburg, Sizanani Dorp.
Ivory Caps Pills in Soshanguve, Soweto. Ivory Pills in Springs, Tembisa. Ivory Pills in Tsakane, Vanderbijlpark. Ivory Caps Pills in Venterspos, Vereeniging.
Ivory Caps Pills in Voortrekkerhoogte, Vosloorus, Vrededorp, Walkerville, Welverdiend, Westonaria. Ivory Pills in Zithobeni, Zamdela, Zwartkops.
SPEAK TO OUR EXPERTS
Call Direct
Call Wits Women's Clinic International's help line for all your Female sexual health & Beauty concerns.
Speak to our trained counsellors & get the answers you need
ASK OUR DOCTORS
PRIVATE & CONFIDENTIAL – Get the answers to your most personal health & beauty concerns…E-mail any questions that  you may be having regarding your sexual health & beauty concerns to the Wits Clinic doctors at  drmelissa@witswomenclinics.co.za or drbismarck@witswomenclinics.co.za  , and have a response E-mailed immediately.
ARE INSURANCE PLANS ACCEPTED?
We don't offer MEDICAL AID as for now, but as a management of Wits Women Centre we are looking forward to introduce Medical aid in the nearby future.
Hours of Operation
| | | | | | | | |
| --- | --- | --- | --- | --- | --- | --- | --- |
| DAY | Mon | Tues | Wed | Thurs | Fri | Sat | Sun |
| OPEN | 7:30am | 7:30am | 7:30am | 7:30am | 7:30am | 7:30am | Appointments Only |
| CLOSE | 7:00pm | 7:00pm | 7:00pm | 7:00pm | 7:00pm | 7:00pm | Appointments Only |
PUBLIC HOLIDAYS: Open 7:30 am and closing at 7:00pm
Languages: We have an amazing staff which can speak English, Ndebele, Sotho, Tsonga, Tswana, Venda, Xhosa and Zulu etc.
Walk-in Services
Pregnancy Testing, Depo Injections, Emergency Contraception, HIV Testing
All our services require an appointment.
If you need emergency contraception (morning after pill), you can walk in any time wits women clinic is open.
Payment Information
We take CASH & WE ALSO ACCEPT CARD – VISA, MasterCard, Maestro-card, V PAY, MasterPass.